A thank you prayer for a free eBook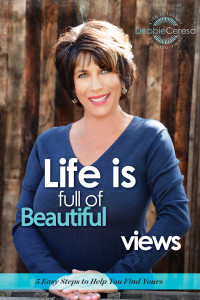 Behind Grace's bed, the wall was painted a bright raspberry color. Large brightly colored decals of animals and flowers floated across the room. My little granddaughter invited me to share her room during my visit a few weeks ago. Grace inherited her parents large bed and together we cuddled next to each other, our heads propped up on a sea of pillows.
A large basket of Beanie Babies and stuffed animals sat in the corner of the room with Raggedy Ann and Andy carefully protecting the basket. Thirty-five years ago these same Beanie Babies and cuddly animals resided in my daughter Jenny's bedroom. The hand-made Raggedy Ann and Andy dolls had magically traveled thirty years and landed in my granddaughter's bedroom. Reminiscing I recalled sewing the floppy dolls when my daughter was a little girl.
Grace's unruly curls covered her pillow. "Grammy, can you tell me a story? I want to know all about the tooth fairy Where does she take the teeth?"
Grace lost her first tooth earlier that day and now clutched the little enamel tooth in one hand. Jenny's yellow quilted tooth fairy pillow rested on her tummy. "Was this pillow really my mom's?"
"Yes, the pillow was your mom's. What do you know about the tooth fairy?"
"I think she's a princess and takes little kid's teeth back to her palace, but what does she do with them?"
I confessed I really didn't know exactly what the magical fairy did with her collection of teeth. "Maybe she has the teeth dangle from chandeliers in her castle."
"I don't want to give her mine." Grace continued to examine her small tooth.
"You can keep your tooth if you'd like. But if you decide to keep it, you'll have to put the tooth fairy pillow away so she doesn't visit you tonight."
Grace sat up and reached for the pillow. "Grammy, I've had this tooth for a long time. I'm not sure if I should let it go, but I want to be a big girl."
Before I could answer Grace she tugged at my arm. "I'll let the tooth fairy have my tooth."
Together we took her tiny white and secured it in the pocket of the pillow before turning off the lights.   Grace's room was softly lit with her many night lights, however I could see how proud she was of herself.
"Grammy, can you tell me the story about the places I'll go when I'm bigger?   Remember the one about the mind maker-upper?"
Grace was referring to Dr. Seuss's book, Oh the Places You'll Go. Smiling to myself I remembered the words she wanted to hear. "Simple it's not, I'm afraid you will find, for a mind maker-upper to make up his mind."
My granddaughter now cuddled closer. "I like this story. I'm a maker-upper, right Grammy?"
I held her tiny, warm hand in mine. "You are! Do you remember your other favorite line in the story?"
She sat up again and giggled. "Indeed succeed."
Gently, I coaxed her to lie down and whispered the famous line to her. "Will you succeed? Yes, you will indeed."
Grace reminded me that all of us fret over making decisions and letting go of something in our lives. It doesn't matter if we are young or old, all of us want to be like my little granddaughter and be that maker upper of our minds. I know that's how I am. Once I decided to write my story, I felt relief at having the courage to share.
My action packed visit with my daughter and her girls were filled with constant little reminders of how thankful I am for my family.
There is always, always something to be grateful for. Oh, the places I've been this past year since the release of my book, A Beautiful View! I believe that a simple thank you is a very powerful prayer.
Thank you!
My list is long and hopefully my memory stands up to this task. Thanks to my family, friends, book clubs, organizers of book signing events, attendees of events, my girlfriend "sales" team, and Osmond Marketing for you support. You have indeed helped me to succeed.
Although this may sound a bit unusual, I am also grateful for the many obstacles in my life. My obstacles helped land me where I am today. After overcoming each challenge and taking one step at a time, I became stronger and better prepared to meet future bumps in life. My stumbling blocks continue to help me grow.
Please know that what is in my heart makes me eternally grateful to all of you.
To express my appreciation for your loyalty, readership and support I have a gift for you! Please go to my new website debbieceresa.com to receive your free ebook, Life is Full of Beautiful Views, Five Easy Steps to Find Yours.