The Poppy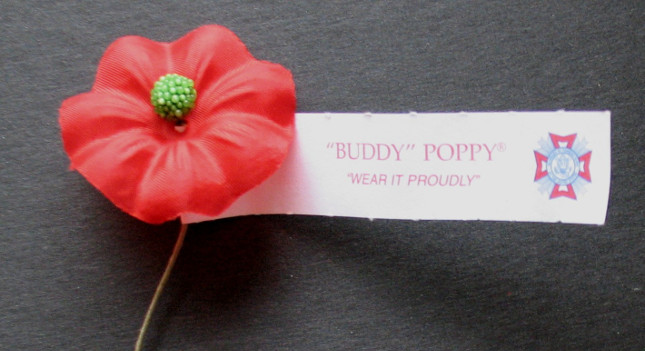 As a little girl, my Grandpa Tony always gave me a poppy to wear on Veteran's Day. I loved the red flower, but  only knew my grandpa and his war buddies collected money and gave people a flower. The men dressed in their uniforms and hats, standing outside the Woolworth store.  The counter inside the Woolworth store was sort of like the Starbucks of the late 50's and early 60's. The veteran's and their wives would congregate at the long grey counter having their pie and coffee. Each couple then taking a turn to stand on the corner and sell the little artificial red flowers.
My Grandpa Tony was a World War I veteran who tirelessly supported the Veteran's of Foreign Wars fundraisers. Grandpa mentioned that the funds were used to support disabled veteran's and their families.  I knew little of the significance of the poppy, only that veterans participated in this event each year.  Of course, that was before Google. Thinking about my grandfather this week I wondered about the significance of the red flower and did a little research.
Colonel John McCrae, a physician serving in the Canadian military during World War I was intrigued by the poppies that continued to bloom in some of the bloodiest battlefields of Flanders. McCrae was amazed at the ability of the poppy to lay dormant for years and then reappear in great numbers.
The physician wrote the poem to honor his patients and deceased comrades. The red poppy not only became the symbol of remembrance by the Canadian and British troops but also a fundraiser to help the returning disabled veterans.
In Flanders Fields
In Flanders fields the poppies blow
Between the crosses, row on row,
That mark our place; and in the sky
The larks, still bravely singing, fly
Scarce heard amid the guns below.
We are the Dead. Short days ago
We lived, felt dawn, saw sunset glow,
Loved and were loved, and now we lie
In Flanders fields.
Take up our quarrel with the foe:
To you from failing hands we throw
The torch; be yours to hold it high.
If ye break faith with us who die
We shall not sleep though poppies grow
In Flanders fields.